Profile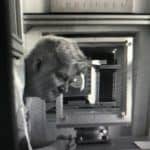 Jesse Dykes
Curriculum Vitae
Education

I went to John Mason School in Abingdon, then Barton Peveril Sixth Form College in Southampton, and then on to the University of Southampton.

Qualifications

GCSE: Physics, Chemistry, Biology, History, Maths, Further Maths, Media, English Literature, English Language A Level: Physics, Maths, Further Maths, Chemistry Degree: Masters in Physics with Photonics

Work History

Volunteered at vegan cafe. Worked Christmas at John Lewis. Worked at a bar inside a theatre during uni.

Current Job

Optical Scientist

Employer

QinetiQ, a defence technology company who specialise in test and evaluation.
Favourite thing to do in my job: Fire lasers at stuff

About Me: I'm a 23 year old man who studied physics at the University of Southampton, and spent a lot of time playing with lasers instead of reading books.

Read more

I grew up in a small town and spent a lot of my free time playing computer games and watching and reading science fiction. I decided that fire and chemistry was cool, and then after some experiments in the back garden I decided I needed funding and a safe place to do bigger experiments. I also learned about lasers from films like James Bond and Star Wars, and then later learned that they actually exist and have lots of uses (often friendlier than I'd seen on TV!)

I then carried on thinking lasers were cool through A levels and a degree, and my enthusiasm for playing with lasers was enough for a company to hire me to do that full time. In my free time I like to sing, climb at a climbing gym, and still play a lot of games!

My Work: I work out ways to use lasers to see through clouds and fog, communicate with satellites, and occasionally burn things

Read more

Currently it's hard to fire lasers long distances through the air. It would be useful if we could, because then we could use high speed connections the same as fibre optic broadband, but through the air without needing cables. We could communicate really fast with satellites in space like the International Space Station, detect things very far away and very quickly which would be useful for self-driving cars to react quickly, and transfer power to remote places without needing electricity pylons.

The problem is that the air isn't still, it's constantly moving in unpredictable ways and chock full of dust, water vapour, smoke, and other things that make it hard for a laser beam to get through. Over short distances this isn't much of a problem, but when you're trying to send a beam across a country or into space, the losses add up quite quickly. My work is in finding ways to get around these problems, in smarter and safer ways than just having more or bigger lasers.

My Typical Day: I get up at 7 in the morning, do some exercise, and then set off for work at a science park, where I'll spend time in two places: in an office at a computer, where I do some maths and figure out whether my ideas will work, or in a laser lab where I put together my idea for real and see if it actually does work! My ideas usually have two or more lasers and lots of mirrors and lenses which all need to be perfectly put together, so this can take a very long time, but it feels great when you finally get it right.

Read more

I get up at 7 in the morning, go for a run, have some breakfast, and relax a bit before I set off for work at a science park. I always make a cup of tea and sit down at my desk to plan what I'm going to do that day and check emails and talk to colleagues. When my tea is finished, I either go into a lab to work on my experimental setup, or stay in the office to write code. The code might describe how air moves outside when it's windy, and how a laser beam will move through this air, and how it will change as it does. In a lab, I might take a laser, blow air through the room, and fire through it to see if my code was right. I might then go back to the office and advise people on safe ways to use lasers, help out my colleagues, and have meetings about projects. After work I go home, do some more exercise like climbing or running if I feel like it, make dinner, chat to friends, play some games, and go to bed again.

What I'd do with the prize money: Buy a camera to make videos about firing lasers at stuff

Read more

I love sharing how cool lasers are with my friends, but it's usually in little videos that I've taken quickly on my phone. I firmly believe that firing lasers at stuff is objectively brilliant and what everyone wishes they could do, deep down. Since (hopefully!) most children and teenagers haven't got big lasers, it would be good to get equipment and a mandate to share optical and material phenomena. It would hopefully dispel some myths and rumours about lasers, and give people a realistic idea of what they can and can't do, and how safe or unsafe they can be.

My Interview

How would you describe yourself in 3 words?

Focused, Careful, Imaginative

What or who inspired you to follow your career?

Star Wars and James Bond, lasers in sci-fi are so cool!

What was your favourite subject at school?

History

What did you want to be after you left school?

A laser physicist

Were you ever in trouble at school?

Yes! Usually for not doing homework

If you weren't doing this job, what would you choose instead?

I would have joined the RAF

Who is your favourite singer or band?

Led Zeppelin

What's your favourite food?

Pigs in blankets

What is the most fun thing you've done?

Shooting a cowboy lever-action gun at a range

If you had 3 wishes for yourself what would they be? - be honest!

I wish I had the confidence to go to a ballroom dancing class, I wish I never had to do my washing up, and I wish I could get a dog

Tell us a joke.

A lady walks into a library and orders a burger and chips. The librarian says "This is a library". So the lady says "Oh! sorry." and then whispers "I'd like a burger and chips please"
---
---
---